01.07.23
Celebrating the start of music week, the wind band played the hymn in assembly which was a lovely start to the day. During the final week of music lessons of the year, it has been great to see so many children coming down to the music department and engaging with their instruments. We also found out that we had a very successful exam period last week with lots of passes and merits and even a few very high distinctions!
On Monday evening, we held a music quiz in the MFT for Years 3-6, which included a mixture of listening and written questions covering everything from Beethoven to Dua Lipa – there was something for everyone!
On Tuesday, we had a day of percussion workshops. Years 3,4 & 5 spent time with an African drumming expert and learned to play some interesting polyrhythms. A group of Year 7s came to a steel pan session with another couple of experts where they were able to create some wonderful music.
During the afternoon, we had a lovely concert for the school's youngest musicians in Years 1 & 2. Standing up in front of an audience of parents can be a very daunting thing, but all the performers rose to the occasion and were able to give some lovely performances. We had a great mixture of instruments including piano, violin, guitar, ukulele, flute and drums as well as a handful of singers. It was a great event that shows that music is developing through the school and that the future is bright!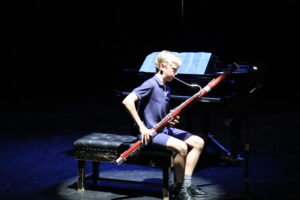 On Thursday, we had the individual house music competition with each house putting two children forward to compete for their house, and the standard was excellent across the board. The Hungarian composer Bartok is quoted as saying 'Competitions are for horses' in reference to music contests. Never has this been truer as the houseparent judging panel tried to pick between, for example, a grade eight piano performance and a grade one violin piece, both played very well, or a trumpet versus a cello! After 12 engaging performances where anyone could have taken the prize, ultimately the winner was Leona from Grenfell House, with her powerful rendition of Empire State of Mind. Alex's emotional performance of My Way on the trumpet earned him a well-deserved runners up position.