30.08.23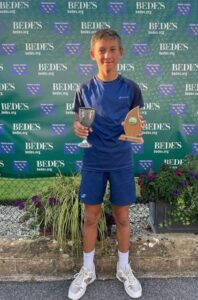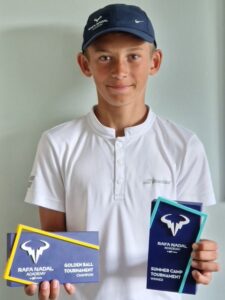 Harrison, Year 8 pupil at Windlesham House, has had an incredible summer of playing tennis across Sussex, London and Europe with huge success!
Play Your Way to Wimbledon
This summer, Harrison won the 14U Play Your Way to Wimbledon Area Finals in Sussex which meant he qualified for the 14U National Finals which were held at the AELTC in early August. He spent four days competing on the famous Aorangi grass courts at Wimbledon. He got through his box of four boys to reach the main draw of which he made the quarter finals, sady losing to the number 1 seed. Whilst there, he immersed himself in the Wimbledon experience, from utilising courts and facilities that are reserved for players competing in The Championships. He was lucky to have a personalised tour of the historic grounds and be interviewed by the media.
Rafa Nadal's Academy, Majorca
Last year, Harrison won the Babolat Cup and his prize was a week's training at Rafa Nadal's Academy (RNA) in Mallorca this Summer, including accommodation, food and flights. During the week, Harrison competed in a RNA tournament at Protur Tennis in Sa Coma. He won all six of his matches and received the champion award. Other tennis tournaments
Harrison also won the following tennis tournaments throughout July and August:-
– 14U Grade 3 Singles, Tennis Avenue
– 14U Grade 3 Singles, Great Missenden
– 14U Grade 3 Doubles, Worthing
Most recently, the Junior County Championships were held in Lewes last week where he became the:
– 14U Singles County Champion
– 14U Doubles County Champion
– Semi-finalist of 16U singles and doubles
This is Harrison's first of two years in this 14U age group which is very challenging considering a lot of the players are one to two school years above him and also are bigger, stronger and more experienced.
Well done Harrison and what a great summer you have had! The memories and learnings from the summer will certainly live with him for a long time.
#thewindleshamway #tennisacademy #sportsacademies #windleshamhousesport