After an extraordinary period of adjustment to 'lockdown', with our staff, parents and pupils all responding incredibly positively to the unprecedented situation and a rather surreal Easter 'break', it is very good to have the new term up and running now, albeit remotely.
I am doing my level best to treat this term as normal… or as normal as possible in the circumstances! I find habit and familiarity can help with making the best of challenging times, so I am back to wearing a tie and jacket every morning and I am enjoying several normal routines such as meeting up with our Deputy Head, Mr Nuttall, first thing to discuss the daily programme and the general running of the school.
Of course even this is not really 'normal' because we observe social distancing guidelines and afterwards there is such a horrible silence everywhere I go in the school that the reality of the situation quickly sets in again!
Anyway we must not dwell on this, it is a short-term situation that we will get through together, with the help of the amazing National Health Service and all the key workers who are keeping the country going.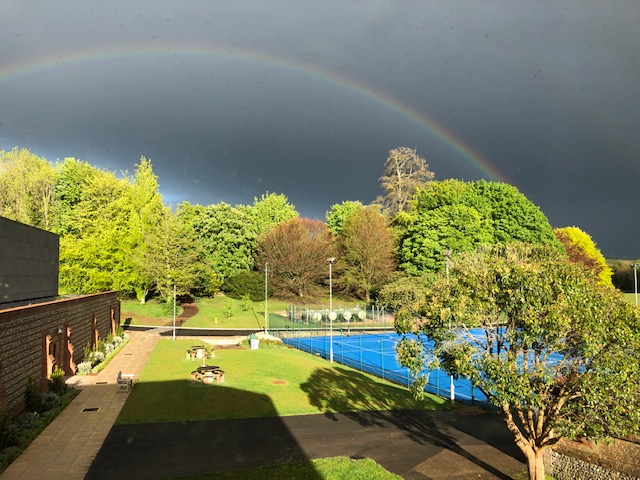 In the meantime we simply have to adapt and get on as best we can. On this note I cannot thank everyone enough for doing their level best to embrace all the changes we have had to make in adapting to online teaching and learning.
As a Headmaster I know full well that I am not alone in recognising and appreciating how hard the staff are working in the planning, preparation and presentation of their lessons and then the assessment and response to pupils work.
It has been very heartening to be party to so many lovely, thoughtful messages of praise and thanks from our parents, boosting even further my already huge admiration for the quality of teaching at Windlesham. And in turn I would like to thank all our parents for their support and patience with online learning. It's not at all easy supporting your children, whilst also working yourself and meeting all the needs of family life day to day.
As everyone associated with Windlesham knows, I insist on our children upholding our core values and my own mantra of being kind. This is even more important at this challenging time. You only have to listen to the radio, watch television or read the ever-increasing trail of messages on social media to know that the nation is having to adapt and observe the same degree of emotional intelligence, tolerance, respect and care that those of us educating young people try to deliver and uphold every day of our lives.
Out of this horrendous situation there will be a much needed change in the way society operates and I am confident the core values we stand up for are going to become ever more valued and appreciated.
I appreciate that some of our parents, and our pupils too, may be feeling bombarded by information but I hope our efforts to keep in regular touch are appreciated and I believe the challenges we face with online learning, as teachers and parents alike, will become easier for all concerned as the days and weeks unfold.
For my part, I hope my video messages and the virtual chapel and assemblies are giving our children, parents and staff a continued sense of belonging to the Windlesham family, despite the distances that separate us.
Schools are possibly the most vibrant and positive environments of all and we continue to miss the face-to-face interaction, the fun and games and simply being together but we will be together at Windlesham again soon and I am certain our Windlesham family will be stronger than ever as a result of this period staying at home to protect the NHS and save lives.
As always, Rachel joins me in sending our best wishes to anyone reading this blog. Please keep in touch and stay safe.
Richard
Richard Foster, Headmaster