I am delighted to have the school back in full swing. I always relish the start of the new academic year, with everyone fresh and excited to be back. It is also a pleasure to welcome new pupils and their parents to the school; it is worth recording that this makes up nearly a third of the school each year. The input of new staff and new appointments are another exciting element to the Autumn Term. We seem to have struck gold this time, which is extremely gratifying.
I am bound to say how much it means to know how happy the children are about returning to school. I cannot recall that ever being the case in my day. We certainly have a few cases of homesickness but these few individuals are always picked up very quickly by their Houseparents and are soon back into the routine. The secret, of course, is to be kept busy and if nothing else Windlesham is most definitely full on.
I have really enjoyed seeing all the new children these past few days. Their Senior Buddies have been charged with the task of finding a time to come and see me, together with the new pupil in their care. It is heartening to see what a special relationship this leads to becoming and I am often in awe of how responsible these twelve/thirteen year olds become as a result of this system.
I should like to be the first person publicly to congratulate Ben Evans on his appointment to succeed me as Headmaster in September 2020. Rachel and I very much look forward to beginning the all- important hand over process with both Ben and his wife Alex.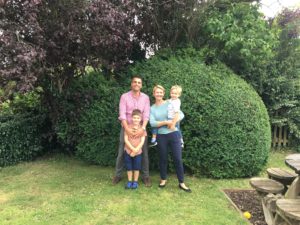 We kick start this tomorrow when Ben and Alex are spending the best part of the day here at Windlesham, being introduced to the staff. They will make several such visits over the next six months and there will also be the opportunity for parents to meet them.
These are exciting times and Rachel and I are determined to ensure there is a very smooth and efficient exchange of the baton.
Richard Foster